PRODUCT EDITIONS
Choosing the correct edition is important. Here are some questions to help you decide which is best for you.
Do you own a business?
Do you manage multiple businesses?
Do you budget for multiple departments?
Are you thinking about starting a business?
Do you own real-estate investments?
We recommend the Professional Edition if you answered "YES" to any of these questions. If you answered "NO" to all of these questions, and are planning to use Budget CashFlow King™ for home use only, then the Basic Edition might be acceptable for your use.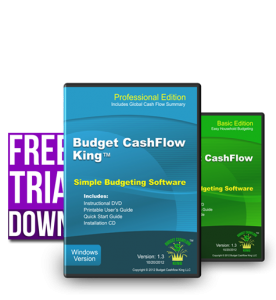 | | | |
| --- | --- | --- |
| TRIAL EDITION | PROFESSIONAL EDITION | BASIC EDITION |
| FREE* | $149.95 | $79.95 |
| *Download version only | | |
| 30-Day full access to the professional edition. | Simple Budgeting Software including Global Cash Flow Summary. | Simple Budgeting Software. |
| Create Unlimited Budgets | Create Unlimited Budgets | Create Unlimited Budgets |
| Project your monthly & yearly cash flow | Project your monthly & yearly cash flow | Project your monthly & yearly cash flow |
| Installation Support | Installation Support | Installation Support |
| Global Cash Flow Summary | Global Cash Flow Summary | Global Cash Flow Summary |
| DOWNLOAD NOW! | BUY NOW! | BUY NOW! |